The Denali is our premium cooler with quality fittings and additional ice holding performance. In test after test, the Denali outperforms the other ranges by at least one to two days. The latches are specially designed rubber draw down to provide excellent compression on the seal and are extra wide to provide far more durability than the common elastic pull down latches. The hinges are the best design that we have seen on any ice chest, anywhere, and are fully integrated into the cooler body and lid and have a marine grade stainless steel hinge pin making them last longer.
See below for photos of the True Blue Denali range: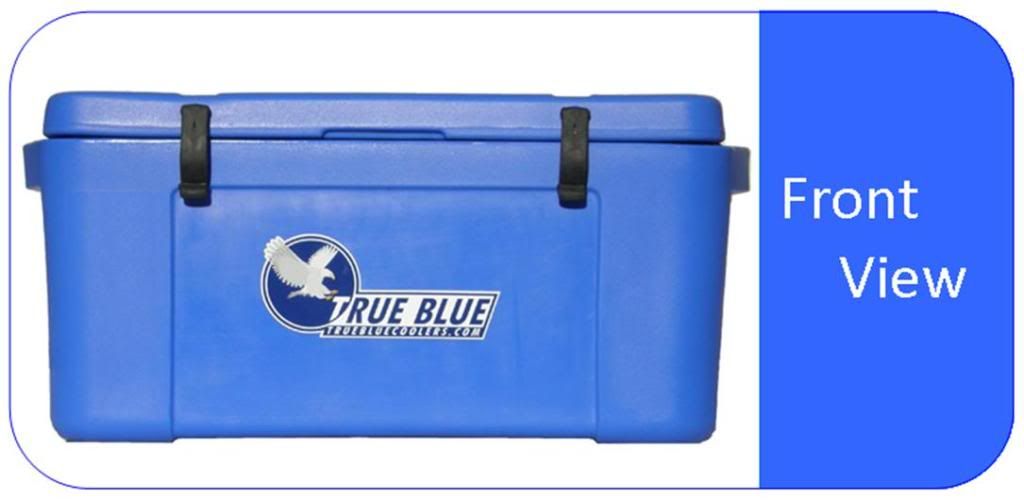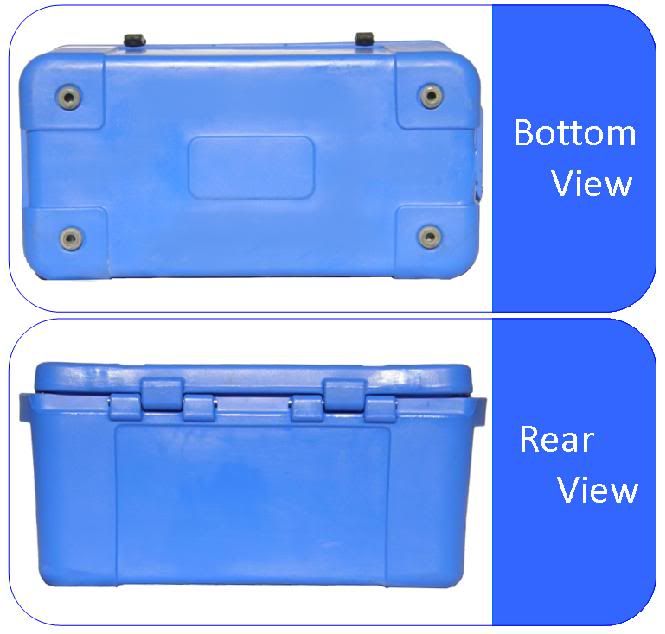 Features
The Denali range like all our ranges are a seamless stylish design and use one piece rotomolding technology. They also have insulation up to 2" thick in the walls and lid. The Denali range has quite a few differing features to that of our other ranges as shown in the photos below:
The Denali range includes:
A textured finish which tends not to show the scratches as much as the finish on our other ranges and is overall a more stylish looking cooler.
Anti skid thermo plastic elastomer feet on bottom of cooler – for slip reduction and non marking. Ideal for boat surfaces.
The drain bung is semi attached so it cannot be misplaced as easily.
This range of coolers also have rope handles as well as grab rails for added convenience and makes carrying and lifting a breeze.
And, as mentioned above they feature a more advance latch and hinge system than your standard ice chest.
Sizes
The Denali range has 3 convenient sizes available as shown in the table below:
Range

Size

External Dimensions
(Max)

Top Internal
Dimensions (Max)

Bottom Internal Dimensions (approx)

Wall Thickness

Lid Thickness

Weight

 

Quarts

L

W

H

L

W

H

L

W

H

in.

in.

lbs

Denali

31.5

15.7

15.2

26.0

11.4

11.8

24.9

10.6

11.8

2.1

2.0

19.8

37.8

18.9

16.9

32.2

14.5

12.3

30.8

12.8

12.3

2.1

2.0

33.0

40.6

20.9

20.5

32.0

17.1

17.1

31.6

16.7

17.1

2.4

2.0

44.0
Why Choose a Denali Over Our Other Ranges
If you prefer a more stylish looking cooler that tends not to show scratches and has just that little bit extra ice holding capacity then a Denali cooler is the right one for you! You may also prefer the ease of using rope handles (rather than plastic handles) and the added piece of mind that this cooler brings with the premium fittings including fully integrated and molded hinges. We find this cooler is popular with commercial customers where looks are important and rafters like that this cooler has tapered sides to fit in their rafting frames.
Explore the sizes below to get the cooler you deserve and be the envy of your friends on your next outdoor expedition. Need more information?  CALL or EMAIL to speak to one of our friendly staff.
Choose the Size that's Perfect for Your Needs: