The Everglades range is our larger 210 quart square everyday cooler with quality fittings and a compact square design. The Everglades range features marine grade stainless steel latches and the hinges and handles are welded on to the cooler body. This range also features a double thickness lid. The Everglades range has a more compact square body similar to our Arcadia range. The Everglades range like all our ranges are a seamless stylish design and use one piece rotomolding technology. They also have insulation up to 2" thick in the walls and lid.
See below for photos of the True Blue Everglades 210qt:
Features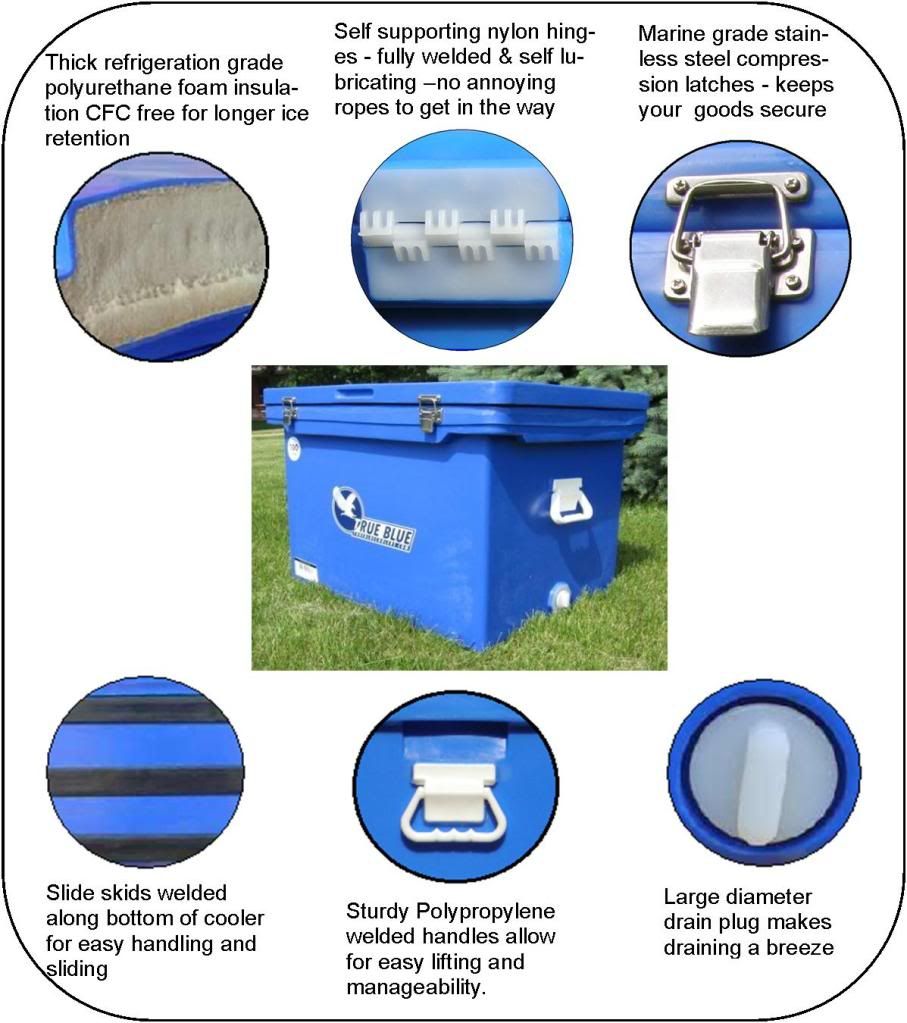 The Everglades range has some differing features to that of our other ranges:
A smooth finish and square edges.
Slide skids built into the base of the cooler to allow for easy sliding and manoeuvring when the cooler is full.
The drain bung is located at the lowest point in the cooler for easy draining and cleaning.
This range of coolers has strong polypropylene plastic handles and also has built in grab rails for easy lifting.
Stainless steel compression latches.
Compact Square design
Sizes
The Everglades cooler comes in one size currently as shown in the table below:
Range

Size

External Dimensions
(Max)

Top Internal
Dimensions (Max)

Bottom Internal Dimensions (approx)

Wall Thickness

Lid Thickness

Weight

 

Quarts

L

W

H

L

W

H

L

W

H

in.

in.

lbs

Everglades

210

36.5

24.8

23.2

31.0

19.7

19.4

30.9

19.8

19.4

1.2

2.8

48.4
Why Choose an Everglades Over Our Other Ranges?
If you prefer a more affordable rugged cooler that has a larger capacity to that of our other ranges then an Everglades cooler is the right one for you! You may also prefer using secure plastic handles rather than rope handles and like the fact that this cooler has slide skids that are more practical and make manoeuvring when full easier. This cooler is our most popular range amongst commercial customers due to it's size, ruggedness, affordability. Click on the products below to buy the Everglades cooler that's right for you and be the envy of your friends on your next outdoor expedition. Need more information? CALL or EMAIL to speak to one of our friendly staff.
Click the link below to purchase a 210qt Everglades today: